I love Monif C. customers, I really really do…I love when I get pics of Monif C. girls in action. The only thing better than getting pics in my inbox is running into a customer in a Monif C. dress just randomly on the street or at an event, like happened the other night. I actually twitpic'd it because I was so giddy click here. Oh and click here to follow me on twitter.
So imagine my delight when I log onto our Facebook Fan Page (I know it needs some serious updating, I'm getting on it) to see pictures of a customers wedding and she wore the "Marilyn" Long Convertible Dress – White as her wedding dress! Quite a few customers have been calling us lately to not only get white long convertibles for beach or more casual weddings, but also custom color long convertibles for bridal parties, etc. It's really cool because most times people pick custom colors, so right now we have a black/white wedding, a fuchsia wedding party, and someone is doing chocolate brown long convertibles for their wedding party. Here are some pics of Sho! Thanks so much for sending these to me!!
!
All this talk of weddings lately on the blog has me a lil um…nervous…seems like a trend here…
I haven't done a customer love post in a long time, so here goes!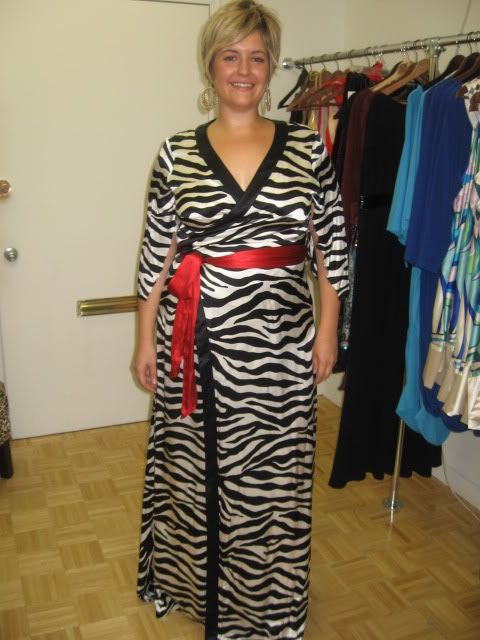 We've already gotten orders on this dress, "Zoe" Silk Zebra Gown – $418 – this dress is a special order, so you can call the office to order 212.842.1641.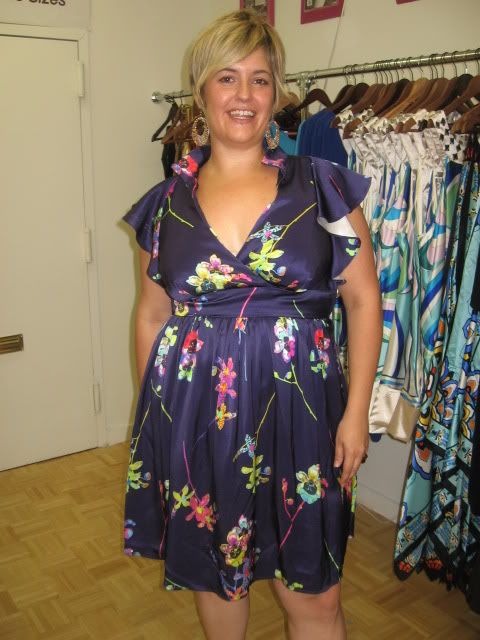 Coming soon!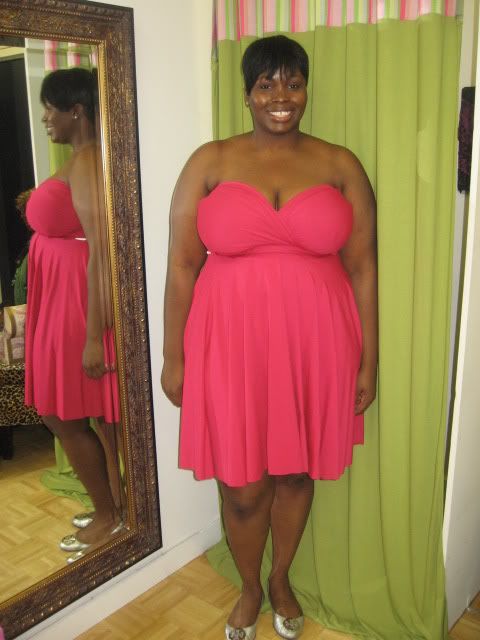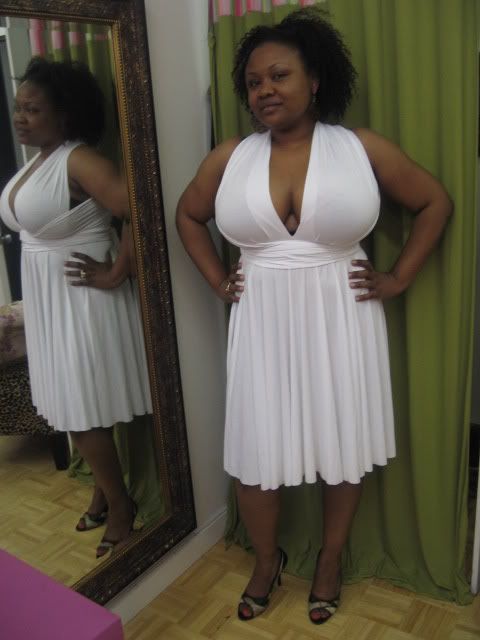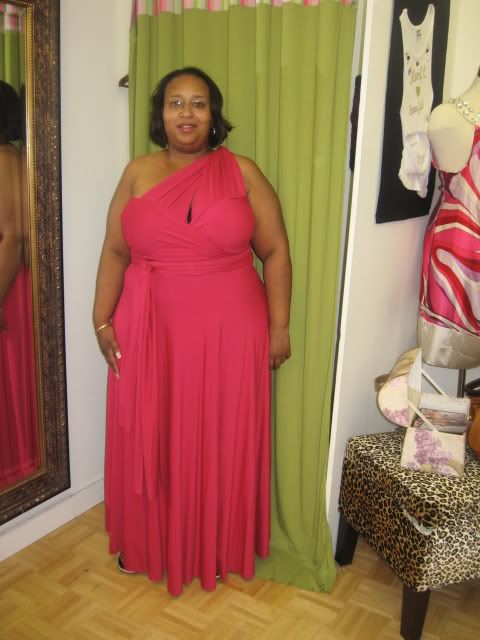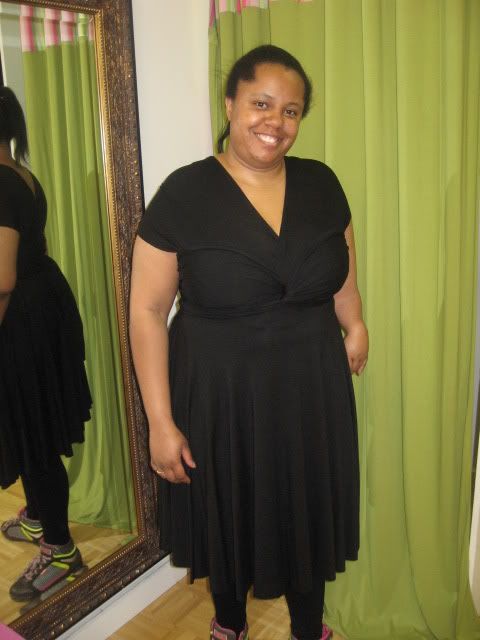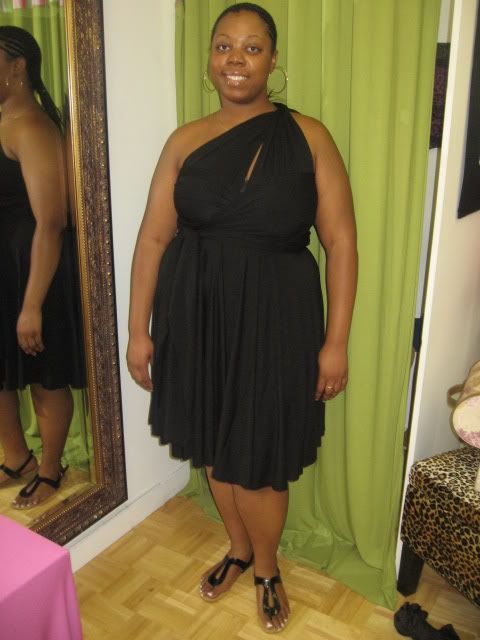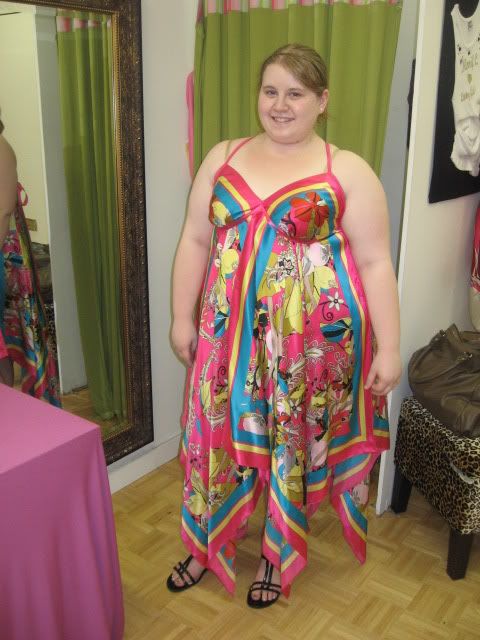 This is our high school intern Stefanie, looking good!
Some customers sent in some pics by email so we can so how FABULOUS they look! Thanks ladies!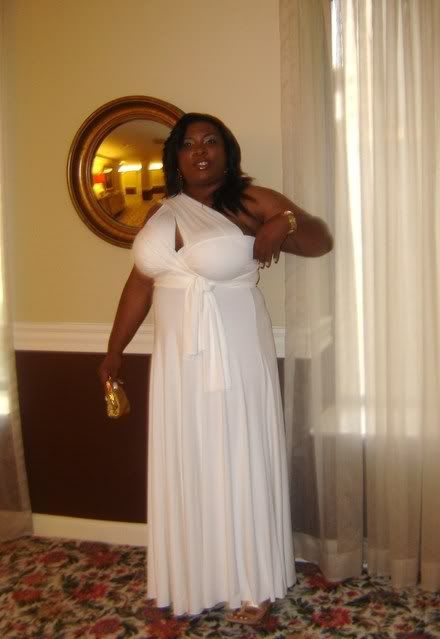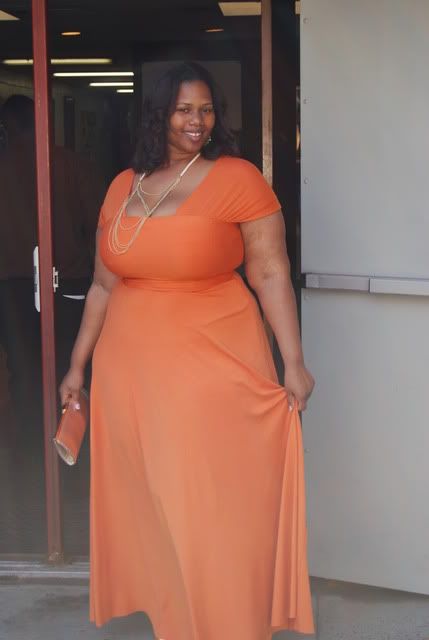 Did you know that in addition to being able to order Monif C. Plus Size Clothing and Dresses online, by phone 212.842.1641, AND in our New york Boutique, you can also buy Monif C. in specialty boutiques around the world? Here is our most recent list of speci
alty boutiques carrying Monif C. Go check out the stores in your neighborhood and shop, shop, shop!
GEORGIA
Expressions Fine Womens Apparel
1522 Hudson Bridge Rd
Stockbridge, GA 30281-5020
(678) 289-3338
LOUISIANA
Voluptuous Vixen
538 Madison Street #1A
New Orleans, LA 70116-3360
(504) 529-3588
MARYLAND
Graceful Elegance
Montgomery Mall
7101 Democracy Blvd
Bethesda, MD 20817
www.GracefulElegance.com
301-365-3505
NEW YORK
Chique Life
www.chique-plus.com
(212) 260-5660
NY, NY 10003
Monif C. New York Plus Size Boutique
325 W. 38th Street, Suite 1007
New York, NY 10018
212.842.1641
M – Th: 11am – 7pm
F: 11am – 5pm
Sat: 12pm – 5pm
TEXAS
Strut Plus Size Boutique
Houston Galleria Mall near Fox Sports Grill
5175 Westheimer Road
Houston, TX 77056-5501
(713) 621-4000
The Fashion Lounge
3901 Arlington Highland Blvd.
Arlington, TX 76018
(817) 419-6777
INTERNATIONAL
BAHAMAS
Lady Elegance
Jameres Plaza Robinson and Minnie Street
Nassau, Bahamas
(242) 356-4436
CANADA
A Bit More Hip
96B 33rd Street East
Saskatoon, SK S7K0S1
(306) 683-9524
Curvaceous Boutique
4049 Albert Street
Regina, Saskatchewan S4S3R6
(306) 522-8789
Dujour Boutique and Gallery
628 Abbott Street
Vancouver, BC V6BOB8
(604) 688-3524
Lola and Gigi
92-B Carrier Drive
Toronto, Ontario M9WSR1
(416) 674-1077
Wardrobe and Style Structure Inc.
29 Rowan Street, 2nd Floor
St. Johns, Newfoundland A1B2X2
709-753-2662
JAMAICA
Kurvity Boutique
7 Goodwood Terrace
Kingston 8
Jamaica, West Indies
(876) 631-3737
TRINIDAD
Lady Lady Limited
13 Mucurapo Road, 1st. Floor
St. James, Santa Maria Plaza
(868) 497-4746
ST. MAARTEN
Phat Divas Haven
116 Rue Nationale
French Quarter, St. Maarten 97159
599-581-9032
SWEDEN
Kurviga
Ragvagen 4
18769 Taby
SWEDEN
alexandra@ofwermanentertainment.se
The Boutiques list will be constantly updated here.