Did you know we moved to a new larger location? Come celebrate with us this Thursday from 6 – 9pm!
Come shop the Monif C. collection, plus the La Dan's coat collection, jewelry, and large size shoes up to size 13!
Be there or be square!!!!
xoxo Monif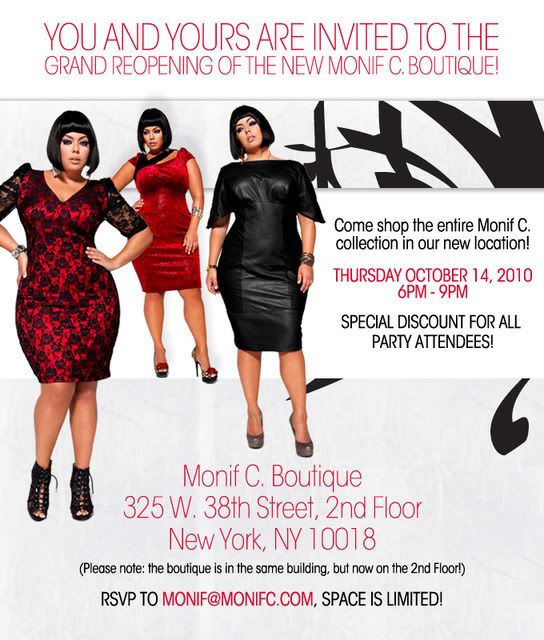 Here are lots and lots and lots of pictures from the Monif C. Plus Sizes 5th Year Anniversary Party!
Special thanks to everyone that was a part of the party, all of the models, the makeup team led by Tara Taylor, Christina Rice PR for putting on an amazing event, Carol's Daughter for sponsoring the beauty bar and Carol's Daughter founder, Lisa Price for coming out! Sweet P Catering, custom Monif C. mini cupcakes by Get Em Girls, Inc, music by DJ Aasha Adore, Sculptz, Candy Flavas candles, Indique Hair, and Pop Chips!
Thanks to everyone that came out and all of our supporters, customers, friends and family, we couldn't have reached 5 years without you! Here's to 5X5X5X5X5X5X5X5X5 more!!!!
Oh, and for those of you who looking at the pictures, seeing brand new Monif C. goodies and wondering, where are those dresses??? Stay tuned this week!