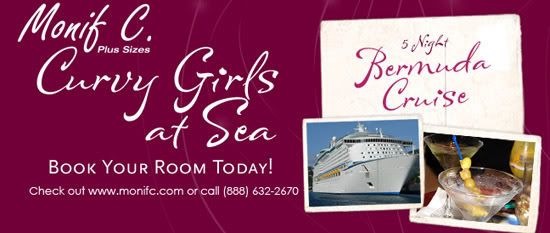 So as usual, big things are happening here at Monif C! Yes, we are all-hands-on deck getting our spring production done (you all REALLY love that long convertible dress, almost sold out of all colors!)…Time is flying and before you know it, Team Monif and hopefully you, will be cruising on Royal Caribbean to Bermuda in August!
Curvy Girls, it's going to be awesome. No really. There are a million reasons to join us on the high seas, but a million's a lot to type. Take these five (one for each day away) as a small sampling:
5. Location, Location!
Um…we're going to Bermuda. Must I say more? I don't know about you ladies, but as I sit here in New York's chilly, damp March, convertible dress tucked under a cardigan and leggings encased in my Uggs, I just…I would do anything to feel some sun on my face! My sandals, bright colored dress and bathing suits are CALLING me! PLUS, I know I am taken and all, BUT I'm excited to see some hot Bermuda eye candy

Well, I don't know if he will be there
, but I am sure we can find a look-a-like
.
4. A Fabulous Plan
that sounds so devious…Raised eyebrow and sinister undertones aside, even though the trip alone will be awesome, my team and I are hard at work to put together what I know will be an amazing five days of empowerment, fun and friends. Among many things on the agenda, we've got:
a plus-size model workshop led by one of the most renowned in the business;
'Style 101′ –Yes, yes, you're a Monif C. girl; I already know you have miles of style, but have you ever wanted to step it up a notch? If so, this is the session for you!

We'll spend time with a stylist to stars as they share tips to bring your fab-game from good to great!
The Definitive Grown and Sexy Party. The color of choice? White, naturally. You say you have nothing grown, sexy and white? No worries, because….
3. Monif C. Marketplace
I have to make sure my ladies look gorgeous on land or on sea! We'll be taking the boutique to the boat for our cruise. Be ready to enjoy selections from the new collection, special edition pieces for the cruise and great discounts (only for cruise attendees!) And I know y'all will enjoy this because later on the trip….
2. Youuuuuu Better Work!
Yes, ma'am—I'm looking at you! All those lovely new pieces from the Monif C. Marketplace, WILL be making an appearance on the runway and on YOU! We are having our very first customer runway show because some of the prettiest curvy girls I know are my customers this is a moment for you all to shine and RIP the runway!
And the number one reason for you all to come on this awesome trip?
1. YOU and yours
I have had some opportunities to meet Monif C. girls, their friends and loved ones and I have to say, you all are amazing. Yes, we'll have great workshops, and parties but thing that will make it stellar, the thing that will make it an amazing memory will be the opportunities this trip will create to relax, to re-connect with loved ones and to make new friends and relationships. YOUR presence is needed to make this trip as amazing as it can be. Plus everyone is invited, bring your sons, daughters, uncles, husbands, boyfriends, mothers, it's going to be a great time for everyone!
I'm so excited; countdown for Curvy Girls at Sea is already under way! Cabins are filling up fast—I want to make sure that you get a chance to come.
Secure your spot with only a $200 by March 16.
And, if you get your deposit in before then, you're eligible for a 25.00$ shipboard credit per cabin (umm…that's free libations and snacks, y'all).
For more information on the cruise, reach out to our travel agent, Mina at mina@largaytravel.com or by phone (888) 632-2670.
See you soon!