Have you all heard of Erica Watson? She's a comedienne that has appeared on BET and Oxygen network. She also happens to be a fabulous plus size woman that will soon be appearing in the new "Precious" movie by Lee Daniels playing opposite Monique, Lenny Kravitz, Paula Patton, and Mariah Carey. EVERYONE is buzzing this film, it apparently won numerous awards at the Sundance Film Fesitval, and the word on the street is look out for the film winning some Oscar's this year.
Well Erica and I happen to get tortured together on a daily basis at Bootcamp with Aja Davis, and last night she passed me a flyer for her new one woman show titled "Fat Bitch"! In her show, Erica tells the story of being a large woman, her loves, life, and society. But trust me, this is no sob story, Erica puts it all out there in a funny and empowering way.
Mia saw the show and told me is HILARIOUS, so you know I'll be there! Erica was sweet enough to offer a free set of tickets to a lucky Monif C. customer. So the first person to respond in the comments section of this post will get the free tickets! Obviously, the show is in the NYC area, so you must live close.
Hope to see you all at the show, I'll probably go Saturday show, so look out for me!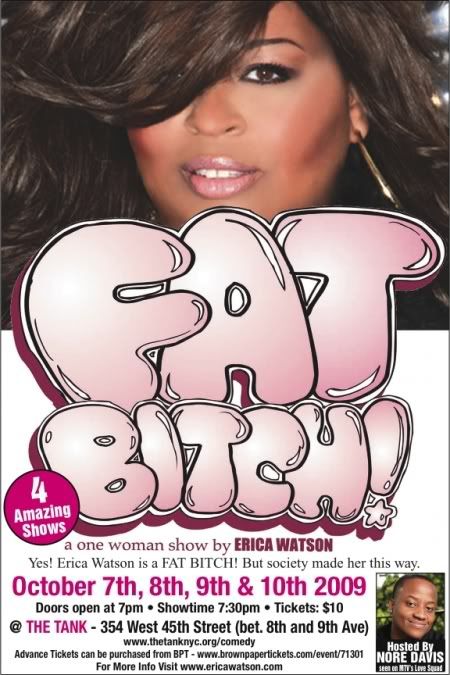 Leave a Reply