Wonder where I've been??? Well, I took 2 weeks off and did a really great spiritual retreat with my church family, so I was off the map. The rest of the peanut gallery was still working, but I was able to take some time away and rejuvenate! I missed you guys and am eager to get back blogging and designing!
This summer I've had the fabulous opportunity to travel and meet and shop with new and "seasoned" Monif C. customers. We've got two great events coming up for all our curvy girls in NYC Metro Area and those in and going to New Orleans for Essence Music Festival! I hope to see you all at one of these events!
Monif C. Shopping Event during Essence Music Festival at the Voluptuous Vixen Boutique!
Gonna be in New Orleans July 4th Weekend?
Come shop the Monif C. Collection at the Voluptuous Vixen Boutique during Essence Music Festival! Meet Monif, enjoy champagne and hor d'oeuvres, shop the collection, and pamper yourself!
Location: The Voluptuous Vixen Boutique: 818 Chartres Street, New Orleans, 504-529-3588
RSVP: email rsvp (at) monifc.com, Subject: New Orleans, include your phone # and name and how many guests you are bringing
Day: Saturday July 4, 2009
Time: 11am – 6pm
Spread the word!
AND if you are in NYC this weekend!
We are delighted that we are going to be featured as one of the plus size designers in the first ever Full Figured Fashion Week.
We will be taking part in the Finale Designer Runway Show on Saturday as well as the other events including a Shopping Event Saturday Afternoon!
Here's an excerpt from the website, www.fffweek.com : "We believe that FFFWeek will not only provide an opportunity for independent designers to market their collections to a wider audience, and a unique opportunity for plus models to gain more professional exposure on the runway, but also a chance for the media, buyers and the general public to have access to collections that have not received the marketing and publicity they deserve. FFFWeek is also an excellent vehicle for those retailers and boutiques who want to expand their customer base."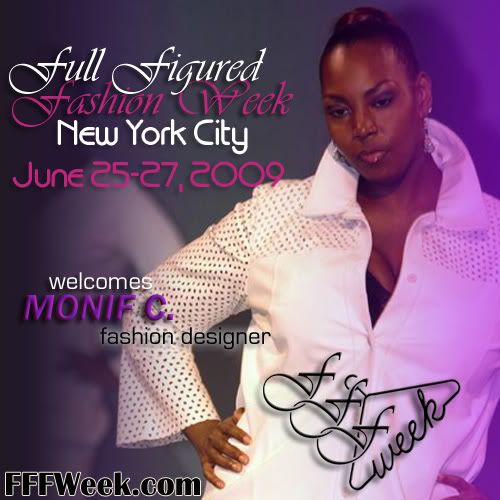 We will be vending at Curves in the City – Shopping Soiree as part of Full Figured Fashion Week!
Check out http://www.fffweek.com for more details
Curves in the City – Shopping Soiree 11:00AM – 3:00PM Saturday, June 27, 2009
Ripley Grier Studios 520 8th Avenue (bet. 36th and 37th Streets) 16th Floor, Room 17D New York, NY
*** Must have I.D. to enter bldg. See website for ticket prices.
Finale Runway Showcase 7:00 – 11:00PM
Saturday, June 27, 2009 (Red carpet VIP Arrivals at 6:00PM) Doors Open at 7:00 PM, Showtime: 8:00 PM
The Prince George Ballroom 15 E. 27th St. (bet. Madison and Fifth Aves.) New York, NY
Description: Semi-formal, finale designer showcase. See website for ticket prices.
Leave a Reply