So I want to try this new thing where we do videos to show you different ways to wear some of your favorite Monif C. items. I had 2 customers with 2 different body types, Rocky (hourglass, proportional), Kate (straight through hips, busty) to show different ways to make the "Charlie" Jumpsuit work for you. UNFORTUNATELY though, the video camera that we used decided it didn't want to cooperate, soooooooooooo, we don't have the video BUT I do have 3 pics for you to see 2 simple ways we worked the jumpsuit. I'll have more pics to come, but wanted those that are interested in the jumpsuit to see that no matter if you are busty, hippy, or in between, you can make this jumpsuit work for you.
So Kate as I mentioned is straight through the hips, busty, some tummy (just like me
), and I think the jumpsuit just by itself works well. Here she wore another belt she had and some heels (these shoes wouldn't be my first choice, but it's what we had in the showroom, so don't shoot us)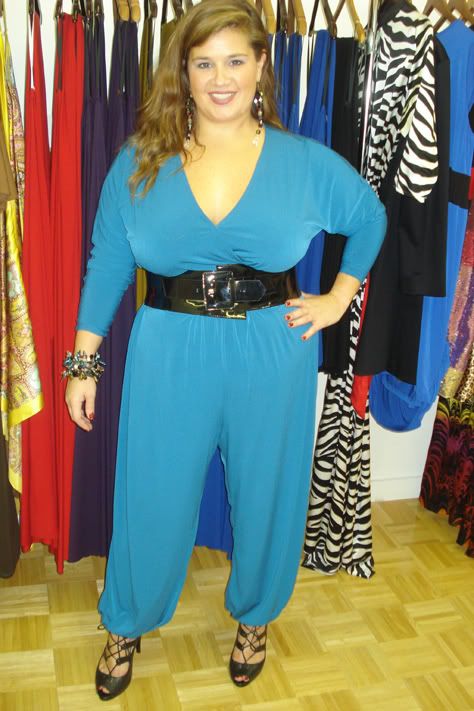 But then we added a cute leather jacket, and I think this brings the look together. The jacket has curved seams, so it comes in at the waist and flares out a little bit at the hips creating an illusion of a more balanced hip. It also tones down the bustyness (is that a word?) so everything is more balanced.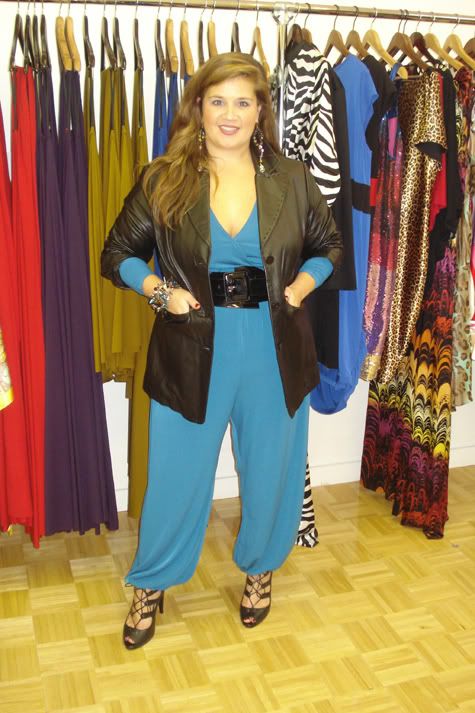 This last look is simple, Rocky our more hourglass customer just wears the jumpsuit as is with the tie belt that comes with it, a clutch and a pair of gold heels. I love this look because it's effortless style, effortlessly chic. It doesn't look like you tried to hard.
More customer pics to come!
Leave a Reply