There's a special offer for Monif C. customers in this blog, so read through!
So I have a confession to make…I like exercise, I even sometimes love it…I know society and the media would have you believe that plus size
women aren't active, but you and I know that isn't true. As with everything in life, there are different strokes for all different folks. So as I keep expanding this blog to showcase a variety of things, I decided to create a plus size and fit section for the blog.
Now, I actually told someone this recently and his remark was, how can you be a plus size designer if you lose weight??….All I could give him was a :blank stare: for his ignorance…oh bless his heart. Working out and getting in shape for me is nothing about losing a particular amount of lbs or fitting into some mold, it's about moving my body and having more energy to keep up with my hectic schedule. What alot of people don't know about me is I've actually always been a very active person, having thrown shot put in high school, being co-captain of my high school track team, and placing in the state championships (pat on the back for me
). AND one of my favorite things to do in my spare time is boxing, I actually belong to 2 boxing gyms, and my type A personality loves hitting the bags to release stress. Oh and guess what, I've done ALL of this and have ALWAYS been over 200 lbs. That's my reality, and I'm happy with that.
The Plus Size & Fit blog will be about me blogging over the next year doing different physical activities including bootcamp, pole dancing (aka skrippa dancing) classes, belly dancing classes, trapeze jumping (A CRAP LOAD OF FUN), wall climbing, etc. And guess what, there will be opportunities for you to get in shape with me! I would love to have a bunch of you all come with me and have like a big Monif C. group to take on these activities. I am also working out special Monif C. customer discounts so you can come work out with me. And I have one for you below today!
SO for today's installment of Plus Size and Fit, I present to you:
Aja Davis Bootcamp in Brooklyn, NY – Fort Greene Park
So let me give you some background…one day Mia (one of my fabu plus size models) and I are on a shoot and she starts telling me about a new fitness bootcamp she joined in Brooklyn. She apparently heard about it from Erica Watson (fabulous curvy comedienne) and decided to give it a try. The bootcamp meets 4 times a week (T – Fri) for an hour and 15 minutes in Fort Greene Park for 4 weeks. Not only did Mia look different, her energy was up and it looked to be doing wonders for her. I love trying new things so I mentioned to her I would love to try it out. Plus the bootcamp craze has been really big these days so I thought it would be a good way to jumpstart my fitness pledge!
Aja Davis is a personal trainer based out of Brooklyn and is NO joke, don't let the angelic face fool you! I jumped in hook line and sinker and enrolled in her latest 4 week session. Aja takes it back old school to get you in shape, jumping jacks, push ups, crunches, squats. We even played tag one day which had us running around for about 1/2 hour non-stop. Aja is tough and will make you push yourself, but you won't get yelled at like a drill sergeant.
Aja is offering a discounted rate for a 4 week bootcamp of $199 for Monif C. customers. Check out her website at http://www.ajadavis.com to sign up today. Come work out with me, I'll probably take her bootcamp for the next 2 sessions going into September, so I would love to work out with you. Be sure to tell Aja I sent you so you can get the discount. If you want any additional information from me, email me info (at) monifc.com and put Bootcamp in subject.
Here are some pics from week 2 of the bootcamp! I'll be doing a video blog next week so you can see the workout in action!
Sign up today, can't wait to see you!
I love that it's a small group and everybody's a cute curvy girl!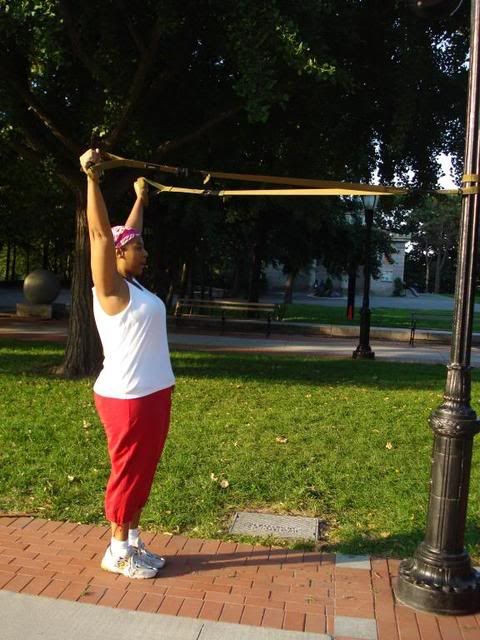 There's the teacher's pet Mia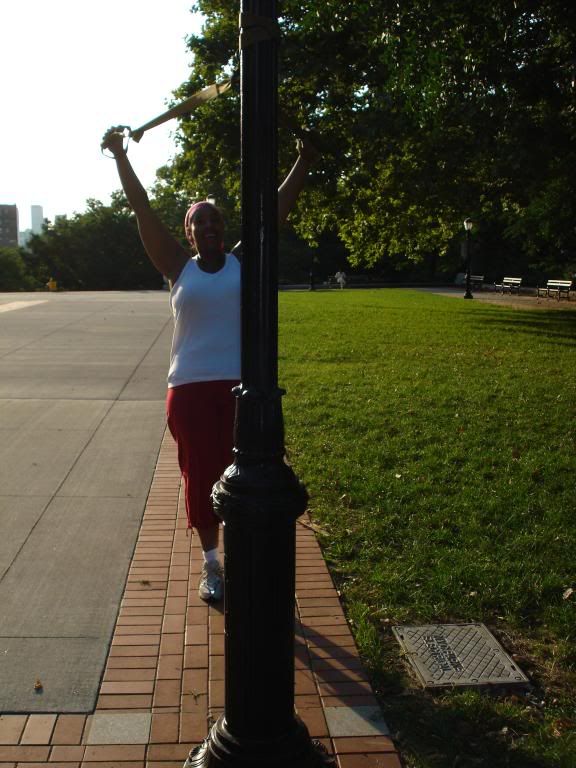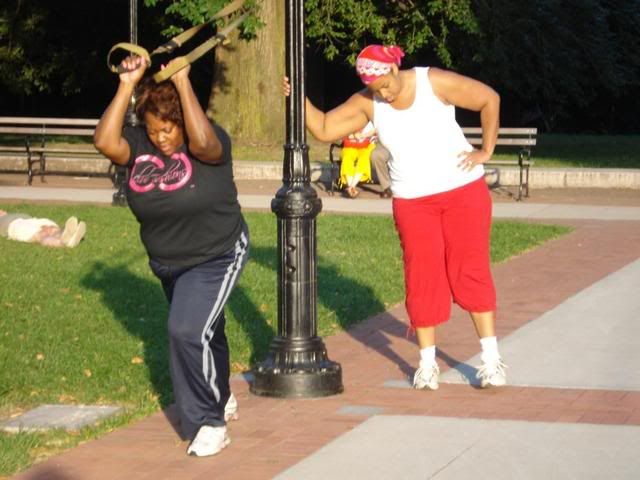 Me with my Club Cushions tee (thanks Tondalaya!)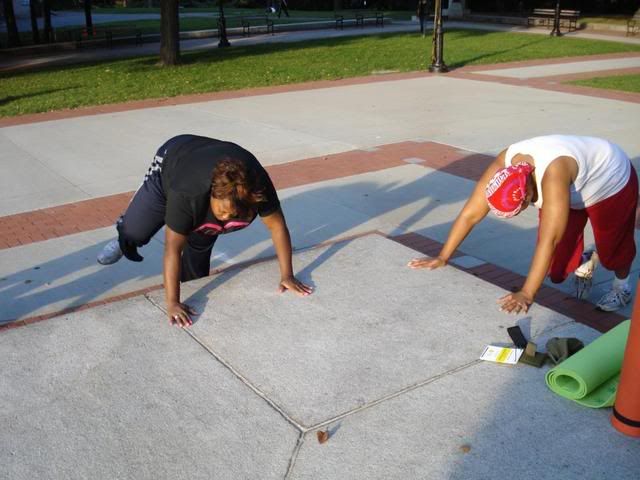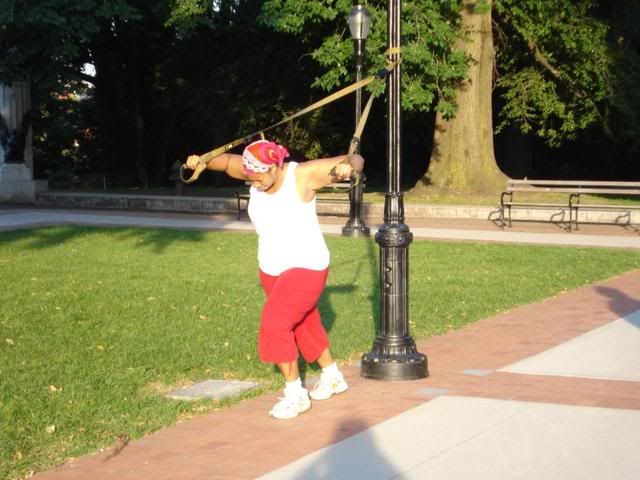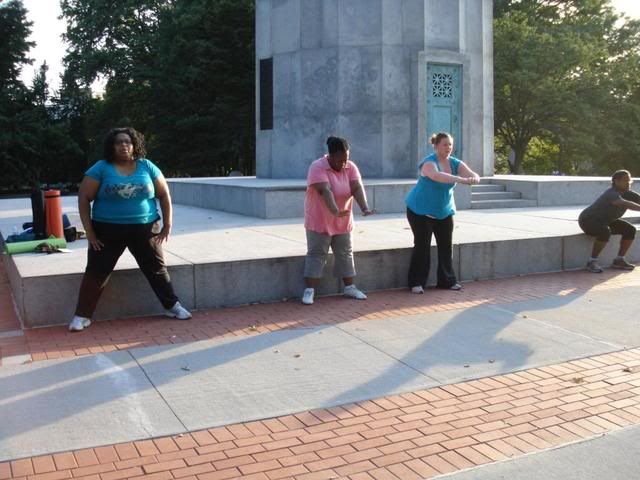 Squats!
Grrrrrrrrrrrrrrrrrrr!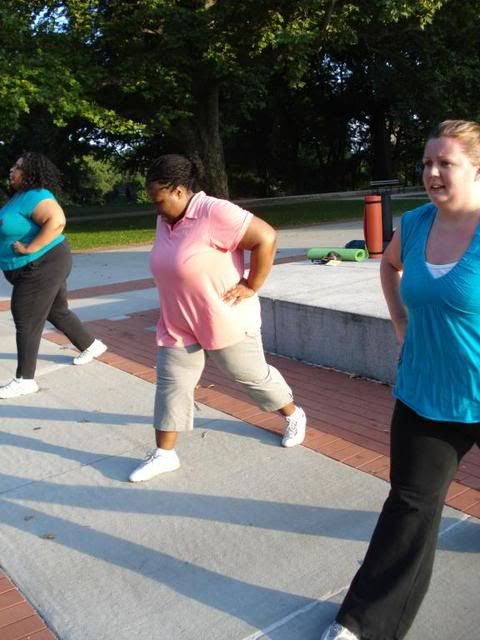 Partner Crunches!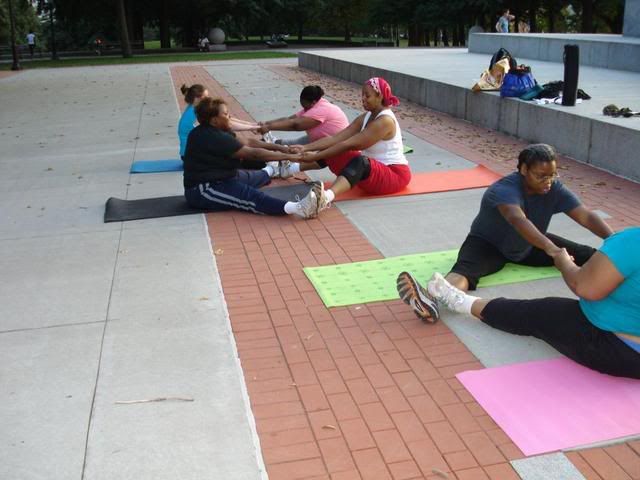 Don't forget if you have any questions, email me info (at) monifc.com with Bootcamp in the subject! Hope to see you @ bootcamp!
Leave a Reply